So, after I was home from my lovely escapade to Paris, I had exploratory surgery on my left wrist! Sounds fun, huh? No, it's not carpal tunnel from excessive Boggle playing or Facebook dorking, but from a fall at work one year ago yesterday. I tripped on our loose-carpet-duct-taped stairs and wrecked both of my wrists. Of course, there were x-rays, MRI's, PT, and lots of other things that are named with initials. Nothing really helped, and the docs didn't know what the heck was going on in there because there's about 800 tiny bits and pieces in your wrists. Finally Dr. Surgeon says, well, let's operate! And for some reason, I agreed.
The day I went in was fine, I wasn't nervous at all. Supposedly I was not going under a general and would just be "heavily sedated"–yes, please. I don't remember anything. Nada. I remember the injection, saying "yes, I feel something now" and then interjecting myself into some conversation about segways–those weird 2-wheeled things you ride on. The doc says "look who's awake" and I asked "when are you going to start"? Apparently I had been done for an hour. I guess I'm a cheap date when it comes to heavy sedation. Awesome. Turns out it wasn't all in vain, I had a torn ligament in there. Gee, I can't wait to do the right side!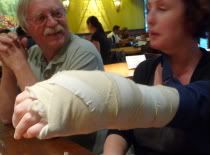 Needless to say, blogging and typing much in general has not been very comfortable as my left arm has been in a cast. The cast came off today and while this is not like sleeping on a cloud, at least my fingers work.
I've been off work for 3 weeks already, and just learned today that I've got another 2 weeks to sit on the sofa and perhaps go out to lunch some more. Because what do you think I've been up to these last few weeks? That's right, eating like a pig. I've actually been eating a lot of pig. I went in on a quarter of a hog with some people—boy, pigs are big. We were lucky enough to score a bunch of trotters and hocks as well and we smoked several of them.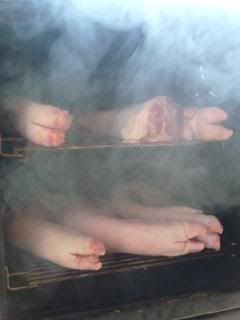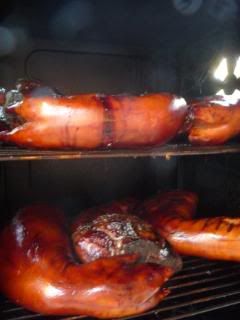 So while cooking's been pretty much nil for me, I will entertain you with my tales of feeding frenzy and other catering woes in the coming days. But for now, it's off to bed, the Lortab has set in.
---