I was taken to the Dixon May Fair today for Mother's day. Well, technically yesterday since it's past midnight. Annnyway….it was a lot of fun. And we got to eat fair food, which is one of the highlights of any good fair. First up…corn dogs and lemonade, the staple of any fair diet.

We agreed that these corndogs were far superior to the ones at the place with the funny hats, but the lemonade was inferior, powder stuff.
Some BBQ is always good too….

Oh, whoops! Wrong picture….

It was ok–but Guido makes way better.
A nice benefit of Mother's Day is that my kid and husband had to do whatever I wanted to do. That means looking at the canned food, the pigs, the rabbits, quilts, all that jazz. First stop, the "Youth of Today" building!

Where we learned the chemistry of hair dye! Fascinating, no?

And one groovy little chickadee put together this interior design–looks like something I'd have in my house. Cool beans.
The animals are always fun. This pig looks happy. Ignorance is bliss, I suppose.


The Rabbits! Have you ever looked at www.disapprovingrabbits.com? Hilarious.
I think I should send these photos in. They do look quite disgruntled.

And look at this poor devil. Looks like a pomeranian and a bunny got it on and had a baby bunneranian.

"Please believe me when I tell you this shirt was not MY idea"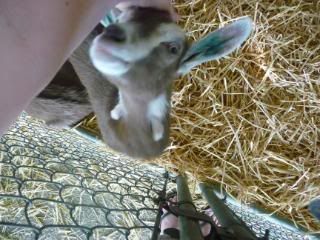 This is our new baby goat friend. I wanted to take him home with us but I guess the 4-H kid would've been upset.

Look, he wanted to come with us too! Love at first sight.
But you know what? I got the fever! Fair competition fever!


I came home and looked up the Sacramento County Fair, which is at the end of this month. Sadly, I am too late. Not to be deterred, I looked at the State Fair info…
and there's still time! The entries have to be in by the end of June. So, I'm entering the King Arthur Flour's "California's Kitchen 'Baby Cakes' contest". I think that's a cute way of saying it's a cupcake contest. I think it's going to have to be the blue-ribbon winning Guinness cupcakes with Jameson sabayon. I think I can enter 2, so maybe I'll do another….strawberry? There's a prize too. $250 in King Arthur Flour gift cards. That's an awful lot of flour.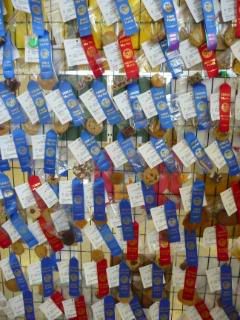 And yes, of course we rode some rides. Super Shot!

---
Related posts: