Yes, I'm leaving tomorrow for wonderful Paris, the city of lights and the city of trees…(Sacramento, CA is the second-most city of trees, didja know that?) Anyway, I can hardly contain myself and because I'm so excited, I'm totally not ready. I'm only half-assed packed and am procrastinating big time. I expect tonight to be crazy-town in this household of mine. At least I did my laundry, even if it is still sitting on the coffee table.
Spring is slowly dragging it's ass to California. We've had some cold weather, which totally sucks after being teased with a week of 70 degrees. I'm starting to fantasize about my garden for this year. Last summer it was terrible. Hardly got anything so I need to do some amending to the dirt I think. So here's some gardens past, just to get you (and me) in the mood to get to work.
Here's what happens in April: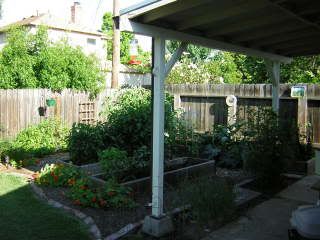 Green Zebra!

This is what it looks like when I'm being OCD and spending all my time in the yard:

Time to start dreaming about what I'm going to plant this year. Always tomatoes, lots and lots of them, peppers, zucchini…..any suggestions?
---
Related posts: