So here I am, finally getting over the jet-lag, but not yet having the time of my life. I can't fucking figure out for the life of me how the hell to get around here! I can't fucking find anything! If I spoke French it might help, but alas, I do not. Except….wait for it….c'est la vie! hahahah. I'm delirious.
My hotel is ridiculously adorable and dinky. And a little dingy. I think it's supposed to be rustic. The view from my window is nice though:
Yesterday I walked, and walked and walked and walked. Today my lazy ass is sore, like crazy. I got blisters in the weirdest place too, underneath my big toe, not the pad but the bendy part. That is a new low. I was wearing my Danskos too! Screw that, I'm back to Chuck Taylors today. Anyway, I did go to the Musee Carnavalet, which is Parisian History. It was cool, but all the markers were in French so all I understood were Louis, Marie Antoinette, and Revolution. It was still cool-lookin'. And FREE! I tried to take a Seine boat ride after that but instead ended up walking in circles for about an hour and never found the fucking boat. I did get a sunburn for my efforts. Spring in Paris! The weather IS beautiful.
Musee Carnavalet:

I found a wee Scottish Pub and had a pint and talked to the barman for awhile. He spent some time living in San Francisco and had even spent some time in our own Sacramento. He recommended a wonderful, non touristy French place for dinner, but….I couldn't find it! Instead, I went to a little creperie and had champignon et fromage with 3 glasses of wine. Then I passed out.
This morning was a little trying. I got up and went to the corner and got the cafe creme and croissant. Success. Happiness. Next I tried to take the Metro to the Louvre and I couldn't figure out how to buy a ticket. Instead of trying to find someone to help me, I just bailed. I decided to walk around and see where I ended up. First I walked up to the Musee Picasso. "Closed for Strike Reasons". Not that I can be mad about that, good union girl that I am.

Next, I walked over the the Pomidou Center. Also closed. I went around to the front of the building and saw this: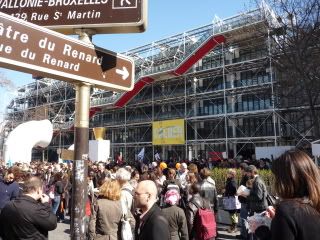 Pretty cool. I wish our country would organize.
Figuring all the museums would be closed, I headed for the Ille de Cite and Notre Dame. First I had lunch–Jambon buerre on baguette:

This was my view while I had lunch: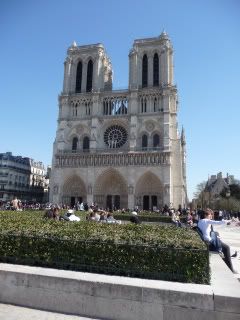 There were also a lot of panhandlers. For the first time I felt lucky that I had no idea what they were saying.
Don't I look happier after lunch?
This is what happens when you feed me.
BTW, Notre Dame isn't as big on the inside as it looks from the outside.
Look, there were gay priests in 1200! So what's the hangup now?
Here's a creepy old bone in a fancy box:
Next I went on a boat ride on the Seine. It was relaxing. The bad? No chairs on the deck. So I stood the whole time on my blisters. The good? It's perty.
My very first glimpse (ok, second. I saw it from the plane. Today was by boat) of the Eiffel Tower!
While wandering home, I got lost again and found the French Holocaust Museum and went in….this is the crypt of unknown Holocaust victims, all the ashes from unmarked sites.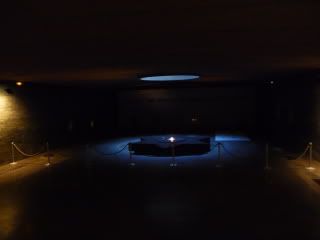 After looking at walls of photos of dead children, I needed a pick-me-up in the worst way. I decided to go the pistachio macaron route.
I then took myself to dinner, but that story and photos will have to wait til tomorrow, as this computer and it's infinitely slow wifi connection take too long, and after walking 100 miles, surviving jetlag and 3 glasses of wine….I'm tired.
Au revoir!
xoxo
---
Related posts: