I was out with Zane last night at a basketball game and we were talking about funny things he used to do, and it got me to thinkin' about just how damn entertaining Zane and Zak have been for the past 18 years. I also began to think how I should write some of these things down before the Alzheimer's catches up with me and I forget them all.
Sitting at the table one evening at dinner, whilst eating some delicious, and certainly healthy dinner, a 3 or 4 year old Zane asks me: "Mom, do you remember ketchup"?
This wasn't exactly funny at the time, but young Zak, age approximately 2, tried to "play" a circular piece of turkey lunchmeat in my cd player.
One morning, I awoke to a line of refrigerated condiments from the head of my bed and ran down the length of my bedroom and down the hall.
When Zane was in Kindergarten, and I was still in college, I would often stay up through the night to write papers or study. I would walk him the half block to school, then come home and go back to sleep on the sofa while Zak watched Sesame Street. On one of these mornings, I awoke to a phone call from the school, telling me that a 3 year old Zak was at the school because he apparently wanted to visit Zane's classroom.
We have always been Sacramento Kings fans, and when Mitch Richmond was a player here, Zane always called him "Rich Mitchmond".
Both Zane and Zak had these "hats" they'd wear, made out of random household objects. I don't know exactly why. Zane's was this tupperware thing:

although he was also known to wear a Lego box:

And Zak's was this deflated bouncy ball: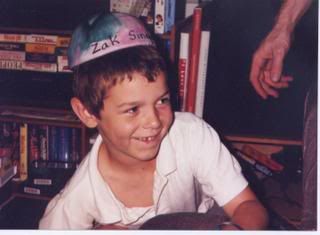 When we moved to F Street, at 7 and 9, a favored pasttime was destroying HotWheels and the like and burying them in the backyard. I would often find them when gardening.
Zane also liked confined spaces. He would find some tiny little place, crawl in, and read a book and chill.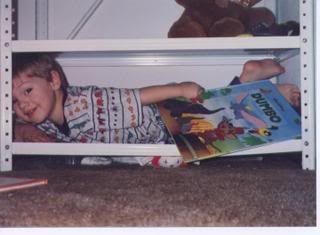 Occasionally people will ask me if I ever had wanted a girl. I won't lie, it would've been fun to have someone to do hair with, talk about celebrity gossip and go shopping for shoes with. But honestly, I wouldn't trade those nutty, mischevious little imps for anything. They've provided me with enough laughs for a lifetime, and the good times continue to roll.
---
Related posts: