Ok, so I've been a slacker and not posting. When I started this I thought I'd have time to write and be clever and all, but that doesn't seem to be the case. 20 years ago, I thought by this time, life would be chill and relaxing and that doesn't seem to be the case either. In fact, I've never been so busy and I can't even keep it all straight in my head. I have to carry a calendar around with me all the time like an old woman. Sheesh.
So here's what's new:  In the month or so since I posted, I turned the big 4-0! I also had one of the best weeks of my life, and had definately some of the best meals of my life.
October 9: Restaurant Gary Danko, San Francisco. www.garydanko.com
Ranks as one of the 5 best in my life, thus far. I ate 5 courses of food, putting my 200 lb husband to shame. Of course I was in pain as I waddled my distended midsection back to our North Beach hotel.

October 10, the Big Day: San Franciso to Calistoga, via Fisherman's Wharf and Mumm Napa for a flight of champagne tasting. A VIP trade tour (thanks Elvis) at the Sterling Vineyard, and a special tasting of the expensive stuff. And a 30% discount on my $100 bottle of 10-year-old cab. Sweet. Oh yeah, I forgot to mention the good part–we actually stayed in a guest cottage on the edge of one of their vineyards, free, natch (Thanks again Elvis). Then a little night on the town, some steak, some wine, some ass-kickin' at Scrabble…..


on the gondola at Sterling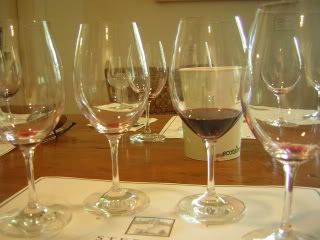 wine tasting


the view from our front door
October 11-12: Calistoga to Fort Bragg, via Roederer Estate for more champagne tasting. A weekend with good friends RimKandy at mom's getaway house, a morning at Glass Beach, and an unforgettable dinner at the Rendezvous Inn. www.rendezvousinn.com


glass beach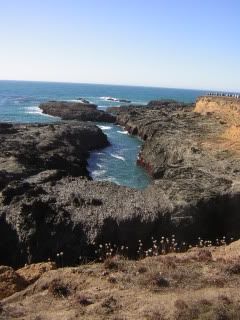 duh, the ocean
October 13: Back to Sac, but no time to rest. A Slow Foods dinner at Mulvaney's B&L honoring Darrell Corti, of Corti Brothers Grocery. A 5-course menu, all with wine pairings by Corti.
October 14-19: Sacramento to Portland, and 5 blissful days with my girls. Eating, shopping, baking with Ruby and imbibing alcohol. My birthday dinner was spent at Le Pigeon, 3 courses this time, with 3 bottles of wine to go with them. I had a foie gras pb&j, a beef cheek bourginnon and profiteroles with foie ice cream. Rich, rich, rich. And totally worth it. www.lepigeon.com/


I made a bunch of food for our Obama party


baking with Miss Ruby


A little champagne with the gals


mmm. wine


the destruction left at Le Pigeon
Since then, it's just been back to the usual. More on that later.
---
Related posts: