Back in Sac, and of course had a busy week with my day job and school. My trip was really fun–got to see all the girls, do some shopping, eating, etc. It went by too quickly but luckily I'll be there again next month for my big 4-0.
As promised, I have a great Caesar dressing recipe that everyone loves and it only takes 2 minutes to make. So here goes:
Here's all the stuff you need:

First just whisk together the mustard, garlic, anchovy paste, worcestershire and lemon.
Add mayonnaise and parmesan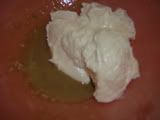 and whisk all that in too till it's nice and creamy

season to taste with salt, pepper, more lemon or whatever

that's it!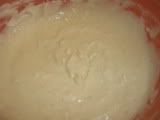 I told you it was super easy. And you get to take all the credit for such yummy dressing.

Here's the whole thing:
Ingredients
2 garlic cloves, minced and mashed with a pinch of kosher salt (more garlic is ok too, if you like it garlicky)
1 teaspoon (or more) anchovy paste (You can use whole ones too, just mince them up)
1 teaspoon Dijon mustard
2 Tbsp. lemon juice
1 teaspoon Worcestershire sauce
1 cup mayo--I like Best Foods
1/2 cup Parm, finely grated
Instructions
First whisk the garlic paste, anchovy, lemon juice, mustard and Worcestershire together in a bowl. Add mayo and Parm and whisk again until creamy. Add salt and pepper to taste. Dressing will be quite thick and can be used as a dip too.
http://www.undercovercaterer.com/2008/09/creamy-caesar-salad-dressing-recipe/
©http://undercovercaterer.com
---
Related posts: