Yes, we went. Woo boy was it fun! Good food, good wine (that we brought, it's byob), good food, good atmosphere and good company.
Here's the menu:
Ahi Tuna Sliders with Sweet Potato Frites and Mango ketchup
Grape Gorgonzola galette with watercress and arugula with meyer lemon vinaigrette
Gnocchi verdi with pesto Genovese
Stuffed veal chop ala Griglia with zucchini canoes and sweet spicy corn cakes
Torta di Albicocca with ranier cherry gelato
We ended with a tasting of homemade cream style limoncellos: Meyer lemon, ginger, strawberry and blueberry. We bought a bottle of the ginger for $15. It was a perfect mix of sweet, spicy and creamy.
We sat next to a couple that 1) She owned a shop I used to frequent and 2) He is a yelper whose reviews I like and also has been interviewed by NPR about taco trucks. There was another guest that I knew from young childhood. Her brother was in our gang at the time. Pretty weird. The couple that we sat next to talked about a "beef club" where a group of people buy a half cow, or maybe a whole cow and divide it amongst themselves. The cows they buy are organic and grass fed, and this is something Guido and I have talked about for some time but never really got serious about. I brazenly asked if I could join their group, so we'll see if they get in touch with us about it.
Believe it or not, I did take some photos, but due to the wine, my crappy camera and my utter incompetence, they mostly didn't come out. But here's what did: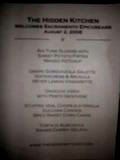 The menu, sorry for the crappy quality

Ahi tuna "sliders" with sweet potato fries

Dessert!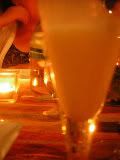 A thimble of limoncello, photographer tipsy.
There was also someone there from the Ghetto Gourmet in Oakland to take photos and blog about it. You can find her stuff here:
http://www.theghet.com/profiles/blog/show?id=1157664%3ABlogPost%3A29086
Here's the Hidden Kitchen website if you want to get on the waiting list. It might take a while, but it's worth it!
http://www.thehiddenkitchen.net/
---