I did some food for my friend Dave's housewarming party last weekend, we made a bunch of chicken and all of the desserts. I made brownies, blondies and a couple of random things with plums from my backyard.
Here's the brownie recipe, it's really some of the best I've made.
Cocoa Brownies with Toffee Peanuts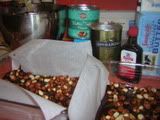 10 Tbsp. unsalted butter
1 1/4 cups sugar
3/4 cup plus 2 Tbsp cocoa powder (I used Ghiradelli natural cocoa)
1/4 tsp. salt
1/2 tsp. vanilla
2 cold extra large eggs
1/2 cup ap flour
big handful or two of butter toffee peanuts
Preheat your oven to 325 with the rack on the bottom third of the oven. Line your
8×8 (or something similar) baking pan with parchment paper, letting some overlap the pan to make the brownies easy to pull out after cooking.
Combine the butter, sugar, cocoa and salt in a medium heatproof bowl or your KitchenAid mixer bowl and set the bowl in a pan of barely simmering water.
Stir occasionally until the butter is melted and kind of hot, not burning, but hot enough that you dont want to keep putting your finger in there to eat the chocolate. Remove the bowl and set aside until lukewarm.
Stir in vanilla.
Add the eggs one at a time, stirring vigorously or use the mixer on level 1 after each one.
When the batter is thick and shiny, add the flour and mix till you don't see little white specks anymore. Spread it in the lined pan and sprinkle peanuts all over the top, as much or little as you like. I used much.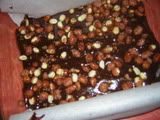 Bake till a toothpick comes out clean. It took mine about 30 minutes, but I would start checking them at 20 in case your oven is different. Cool on a rack.
When they are totally cool, pull them out by the paper and cut them up in big or small squares. They are really rich, so small squares may be better.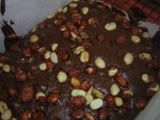 The blondie recipe was posted by Vanilla Garlic over on Simply Recipes.
The plum things were awesome right out of the oven, but I thought they didn't hold up so well. However, they were gone by the end of the day. I just made a simple sugar cookie recipe and made dime sized blobs of it and smushed some pieces of peeled ripe plum from my tree in the center. They ended up looking similar to thumbprint cookies with jam.
_________________________________________________________________
So, we didn't end up getting into the French Laundry for my 40th. I am kind of bummed, but hey, there's only 16 tables for a world renowned restaurant, so I guess it was pretty unlikely we'd get in anyway.
Instead, we're going to Gary Danko in San Francisco.
It looks pretty fabulous too, and we're going to stay overnight in SF, then head to Calistoga the next day to stay at the Sterling Vineyard, where we're getting a VIP tour and wine tasting, so that should be fun.
Anyone been to Gary Danko? Any other suggestions for the day or the next morning? We are staying in North Beach. Jeez, I can't believe I haven't been to San Francisco in what seems like years!
---
Related posts: